A lire, dans le prolongement de notre article sur "The new value of curbs", les nouvelles fonctionnalités proposées par Google Maps : "New ways Maps is getting more immersive and sustainable", qui vient d'être publié sur le blog de Google.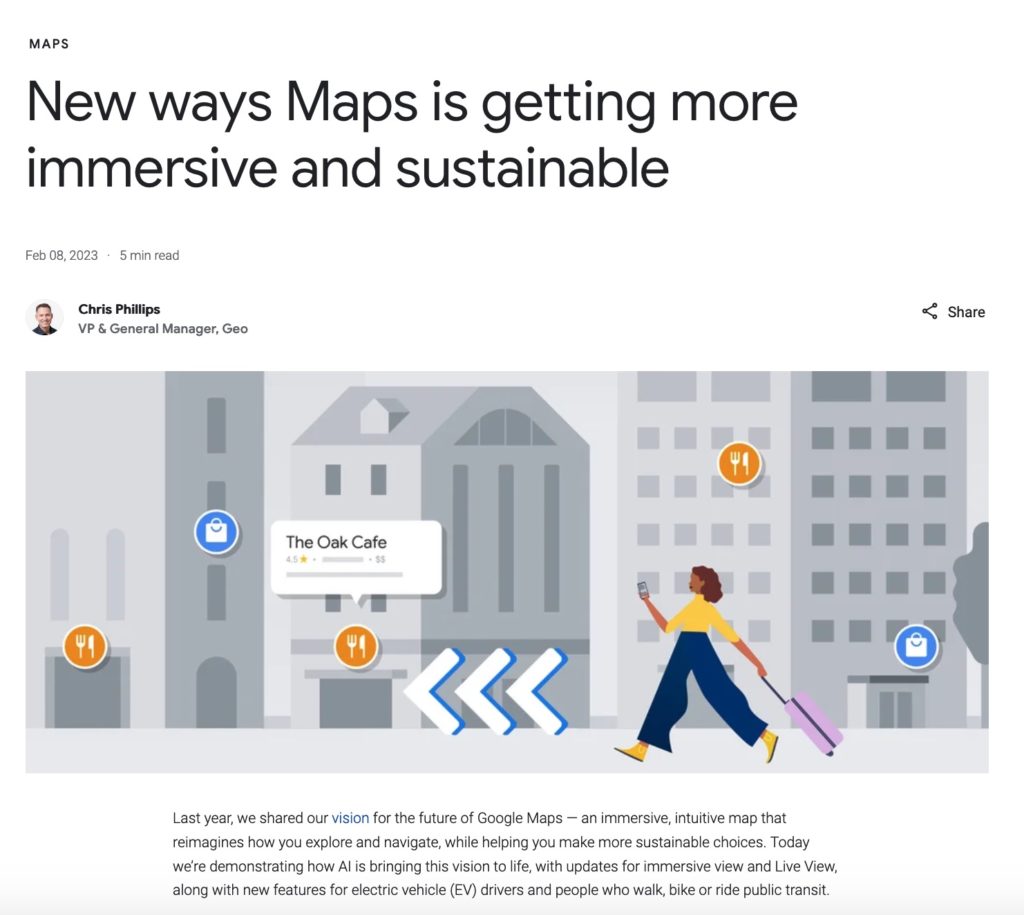 Extraits :
Last year, we shared our vision for the future of Google Maps — an immersive, intuitive map that reimagines how you explore and navigate, while helping you make more sustainable choices. Today we're demonstrating how AI is bringing this vision to life, with updates for immersive view and Live View, along with new features for electric vehicle (EV) drivers and people who walk, bike or ride public transit.

Immersive view: rolling out now 🎉

Immersive view is an entirely new way to explore a place — letting you feel like you're right there, even before you visit. Using advances in AI and computer vision, immersive view fuses billions of Street View and aerial images to create a rich, digital model of the world. And it layers helpful information on top like the weather, traffic, and how busy a place is.

Say you're planning a visit to the Rijksmuseum in Amsterdam. You can virtually soar over the building and see where things like the entrances are. With the time slider, you can see what the area looks like at different times of day and what the weather will be like. You can also spot where it tends to be most crowded so you can have all the information you need to decide where and when to go. If you're hungry, glide down to the street level to explore nearby restaurants — and even take a look inside to quickly understand the vibe of a spot before you book your reservation.

To create these true-to-life scenes, we use neural radiance fields (NeRF), an advanced AI technique, transforms ordinary pictures into 3D representations. With NeRF, we can accurately recreate the full context of a place including its lighting, the texture of materials and what's in the background. All of this allows you to see if a bar's moody lighting is the right vibe for a date night or if the views at a cafe make it the ideal spot for lunch with friends.

Immersive view starts rolling out today in London, Los Angeles, New York, San Francisco and Tokyo. And in the coming months, it'll launch in even more cities, including in Amsterdam, Dublin, Florence and Venice.
Explore and navigate with AR — indoors and out ⬆️➡️

Search with Live View uses AI and augmented reality to help you find things around you — like ATMs, restaurants, parks and transit stations — just by lifting your phone while you're on the street. You can see helpful information, like when a place is open, if it's busy right now, and how highly it's rated – so you can make an informed decision and maximize your time. We recently launched search with Live View in London, Los Angeles, New York, Paris, San Francisco and Tokyo. In the coming months, we'll start expanding this feature to Barcelona, Dublin and Madrid.