Google Maps est-il en train de devenir une "super-app", à l'image de WeChat ? C'est-à-dire que, comme pour un Chinois, si vous vous levez à 8H00, vous êtes en train de l'utiliser à 8H05, puis toutes les cinq minutes tout le reste de la journée*.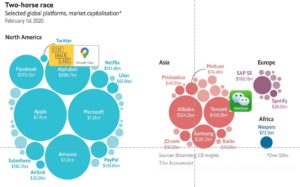 Schéma d'après "Who will benefit most from the data economy ?"(The Economist, February 22, 2020)
Benoît Georges, dans les Echos du 20 février 2020 ("Google Maps, les cartes au trésor") revient ainsi sur cette évolution.
Depuis le rachat par Google, Waze continue sa route, mais une partie de ses technologies sont embarquées dans Google Maps. Au fil du temps, d'acquisitions en partenariats, ce dernier continue sans cesse de proposer de nouvelles fonctions - quitte à chasser sur les terres d'autres applications à succès. Côté tourisme, la dernière version de Google Maps, lancée le 6 février, met en avant les recommandations des utilisateurs, et facilite leurs contributions, ce qui la rapproche de  TripAdvisor, pionnier des plateformes d'avis et de conseils pour les voyageurs. Côté mobilité urbaine, l'affichage en temps réel des horaires de bus ou de métro (et bientôt la possibilité de payer son ticket), ou la possibilité de réserver des vélos et trottinettes, font penser  au britannique CityMapper , présent dans 41 métropoles à travers le monde.

Le nouveau Google Maps propose aussi la livraison de repas à domicile, la prise de rendez-vous chez son barbier ou son esthéticienne, la traduction de panneaux ou de menus depuis des dizaines de langues exotiques ou le guidage en réalité augmentée - les indications s'affichent en surimpression sur les images capturées par la caméra du smartphone… Le chemin semble tout tracé : faire de Maps  une « superapplication », à l'image du chinois WeChat , réseau social chinois du géant Tencent, qui donne accès à une multitude de fonctions de la vie quotidienne (communication, mais aussi réservations, livraisons, voire crédit…).

En faisant rentrer un maximum d'outils dans une seule application, Google ne vise pas seulement à accroître le nombre de ses utilisateurs. Il cherche surtout à diversifier ses sources de revenus. Aujourd'hui, le modèle économique de Google Maps repose avant tout sur la publicité, personnalisée et géolocalisée. Comme dans le moteur de recherche, les annonceurs peuvent payer pour figurer en bonne place dans les réponses. Demain, Google compte bien se rémunérer en prélevant un pourcentage des transactions, faisant ainsi payer l'accès à son écosystème… comme le fait déjà WeChat. (...)

Mais pour continuer de croître et devenir une « super app », Google devra convaincre les autorités de la concurrence que ses succès ne relèvent pas de l'abus de position dominante. Or, aux Etats-Unis, le vent est en train de tourner pour les nouveaux géants du Net, et leur stratégie « Winner takes all » (le gagnant rafle la mise) commence à se retourner contre eux. Comme Facebook, et, dans une moindre mesure, Apple et Amazon, Google fait actuellement l'objet de plusieurs enquêtes antitrust , menées par le gouvernement fédéral et par une coalition d'Etats américains.

Dans ce contexte, le lancement de la nouvelle version de Google Maps a réveillé ses concurrents. Début février, TripAdvisor  a estimé dans un communiqué que « les autorités antitrust devraient examiner les efforts de mise à jour de Google Maps », ajoutant que « les pratiques persistantes [de Google] devraient susciter une inquiétude accrue, au nom de la concurrence et de la protection des consommateurs ».
Les Echos s'appuie notamment sur une "research note" de Brian Nowak**, de Morgan Stanley, parue en août dernier, citée notamment dans l'article "Google Maps Poised to Be an $11 Billion Business in 4 Years" (Denis Schaal, Skift, August 30, 2019). A lire également, du même Denis Schaal, l'article très fouillé : "Google Maps Is Ready to Transform the World of Superapps: A Skift Deep Dive" (Denis Schaal, Skift, April 16, 2019).
Extraits :
"The real battle in mobile is building habits and frequency of behavior," said Katz, who added that Google is on the path toward superapp status because people open Google Maps "all the time."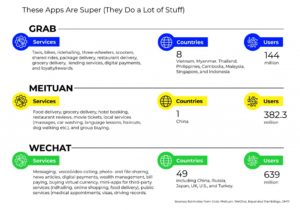 Not everyone agrees that Google Maps will become a superapp, or even if these do-it-all platforms that perform so well in Asia can translate to the West.

Melanie Lee of Grab explained that superapps initially took off in China and Southeast Asia because most people didn't have smartphones but wielded mobile phones with lower memory that couldn't handle multiple apps deftly. A single app, such as WeChat in China or Grab in Southeast Asia, made a lot more sense, she added.
"The difference between Southeast Asia and China is that Southeast Asia is 11 different countries," Lee said, noting that Grab currently operates in eight of them. "It's different languages and different cultures so we have to ultra-localize or really tailor service to each market."

So the Grab app offers tuk-tuk three-wheeler rides in the Philippines, Cambodia, and Myanmar while in Singapore users might book 40-seat buses. On-demand grocery delivery is available from Grab in Indonesia and Thailand, and GrabAssistant, where customers can hire people to stand in line for them, is currently available in the Philippines only.

GrabBike is up and running in Vietnam and Indonesia, "but you won't find it in Singapore or Thailand or the Philippines, for example," Lee said. "So it's very localized. So we call ourselves the regional superapp."

(...)

Personalization, of course, is key, and a feature alongside a restaurant's ratings called "See your match" tosses a percentage at you, calculating the likelihood, based on restaurants you've previously rated, whether there is a 70 percent or merely a 30 percent chance that you'll like the eatery in question.

But one inherent limitation, as mammoth as is the opportunity, is that Google Maps is map- and location-based. It's mostly about discovery and services "near me," or getting from here to there. It's no accident, for example, that flight search isn't yet part of the Google Maps app because unless you are at the airport, you probably wouldn't need to always consult a map when trying to figure out which airline to fly from New York to London. Although sometimes a map would indeed be useful if the user is unfamiliar with the geography.

In that regard, there are so many services that aren't ideally positioned for takeoff from a map. Would the Google Maps app support micro-lending services like the Grab app does? What about homeowners' insurance? Consumers wouldn't think of turning to these services on a Google Map unless they were near a retail outlet offering such commerce.

And while consumers in China or the Philippines might expect and relish an app that can do just about anything for them, it's debatable whether Western consumers are looking for a similar do-it-all application — especially when there is a backlash in some quarters against big tech. With mobile screens relatively small and the prospect that specialty apps can be more feature-rich because a superapp has to necessarily split its attention, superapps may not have universal appeal.

But that won't stop Google from making mountains of money from an exquisite tool whose appeal and convenience is habit-forming and may be just too hard to resist.

On the other hand, John Peters, a former general manager of digital strategy and business development for mapping company Rand McNally, argued that Google Maps is already an integral part of people's lives.

"I do think it's already a superapp," said Peters, adding that Rand McNally's mapping initiatives were focused on truckers, recreational vehicles, and things like HazMat locations. "If Google Maps disappeared tomorrow, I think there would be anarchy," Peters said.

Peters said Google Maps makes life "easier" and "less stressed," giving users a heads-up on traffic woes, or informing them whether a store is open or closed.

Another sign that Google Maps is already a superapp is because of how frequently people use it," Peters argued. "If you need something twice a day or more, it's as important as toothbrush," Peters said.

Calling it the "de facto standard" in terms of how widely Google Maps is used by third-party companies, Peters marveled at its "front-end simplicity combined with an incredibly complicated back end."
*"The best way to understand what WeChat means for Chinese consumers is "you don't really get very far without using the product. If you got up at eight o'clock, you'd be using it by 8:05. Then, you'd be subsequently using it every five minutes for the rest of the day." In : "Google Maps Is Ready to Transform the World of Superapps: A Skift Deep Dive" (Denis Schaal, Skift, April 16, 2019).
**Le même Brian Nowak affirmait : "Sometimes I say the most under-monetized asset that I cover is Google Maps," Brian Nowak, an analyst at Morgan Stanley, said while interviewing Google's business chief Philipp Schindler at a recent conference. "It's almost like a utility where it's kind of waiting for you to flip the switch on."" (source)