Vers la "proximité as-a-service" ?
Dans le prolongement de notre précédent billet où nous nous interrogions sur la "proximité", il faut lire le communiqué de presse du 2 novembre 2020 de REEF, une entreprise américaine qui ambitionne de devenir un opérateur de la "proximité-as-a-service" :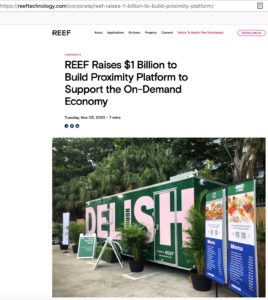 Extrait :
MIAMI, Florida — REEF announced today a $700 million growth equity funding led by Mubadala Investment Company's financial investment arm, Mubadala Capital. SoftBank Vision Fund, funds managed by Oaktree Capital Management, L.P., UBS Asset Management and Target Global also participated in the round. Additionally, and separately, REEF and Oaktree established Neighborhood Property Group, a $300 million joint infrastructure vehicle to acquire strategic real estate assets. Neighborhood Property Group is expected to make long-term investments in neighborhood infrastructure in order to provide REEF's innovative proximity services to communities across the U.S.

REEF's mission is to connect the world to your block. REEF is transforming its distributed real estate network of more than 4,500 parking lots and garages into Neighborhood Hubs, leveraging the power of proximity to connect people and neighborhoods to locally curated goods, services, and experiences.

With more people living in cities than ever before, and the challenges that arise from modern consumption patterns, REEF sees an opportunity to reimagine more sustainable and neighborhood-centric economies.

REEF is leveraging its distributed real estate network and technology to create a proximity-as-a-service platform. Whether a growing local business, or a global brand, REEF provides the platform entrepreneurs and businesses need to deliver their products locally and at scale.

With over 100 Neighborhood Kitchens across 20+ North American markets, REEF is empowering local restaurants and national brands to launch and expand their delivery service operations under a seamless revenue share partnership—from local favorites like Michelle Bernstein in Miami, fast growing mission-driven brands like Burger-Fi, or David Chang's Fuku. By providing seamless access to a distributed network of Neighborhood Kitchens, handling all costs, operations, and food preparation, REEF provides a turnkey, zero capital investment solution for restaurateurs looking to launch or scale their business.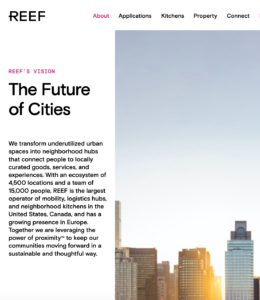 REEF's vision :
We transform underutilized urban spaces into neighborhood hubs that connect people to locally curated goods, services, and experiences. With an ecosystem of 4,500 locations and a team of 15,000 people, REEF is the largest operator of mobility, logistics hubs, and neighborhood kitchens in the United States, Canada, and has a growing presence in Europe. Together we are leveraging the power of proximity™ to keep our communities moving forward in a sustainable and thoughtful way.

(TM : ou lorsque le Pouvoir de la proximité devient une marque)
"The Last Block is Here"
Forget the last mile. REEF's 4,500 locations can reach 70% of the urban population in North America with thousands of sites on your customer's blocks. Our team of nearly 15,000 professionals makes REEF the largest operator of mobility, logistics hubs, and neighborhood kitchens in the United States, Canada, and has a growing presence in Europe.
"How REEF Works"
The REEF Platform enables underutilized real estate to be tailored to meet the diverse needs of the surrounding neighborhood. We have built our foundation on top of the traditional parking infrastructure allowing us to get essential products and services closer to the customer than ever before.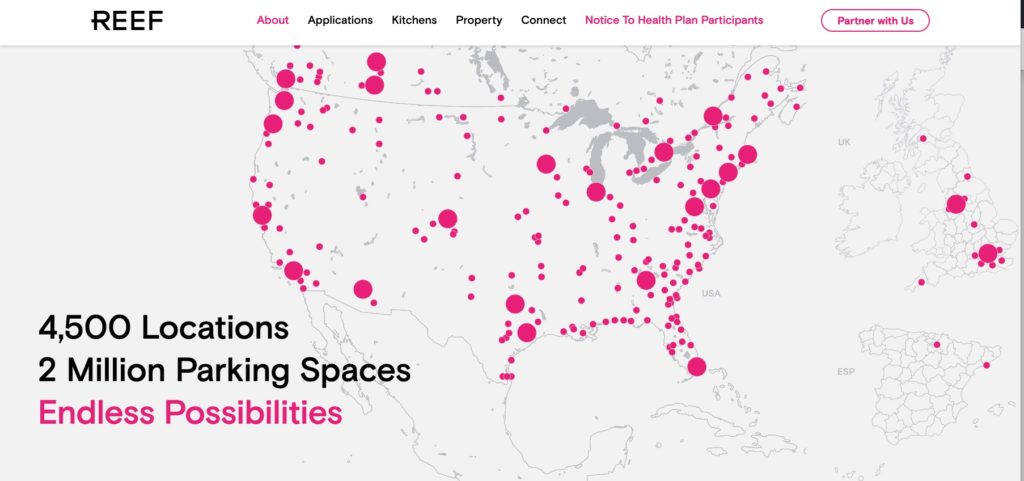 A lire également : "Connecting the World to your Block — Backing REEF Technology's $1 Billion Investment Round" – Target Global – 3 novembre 2020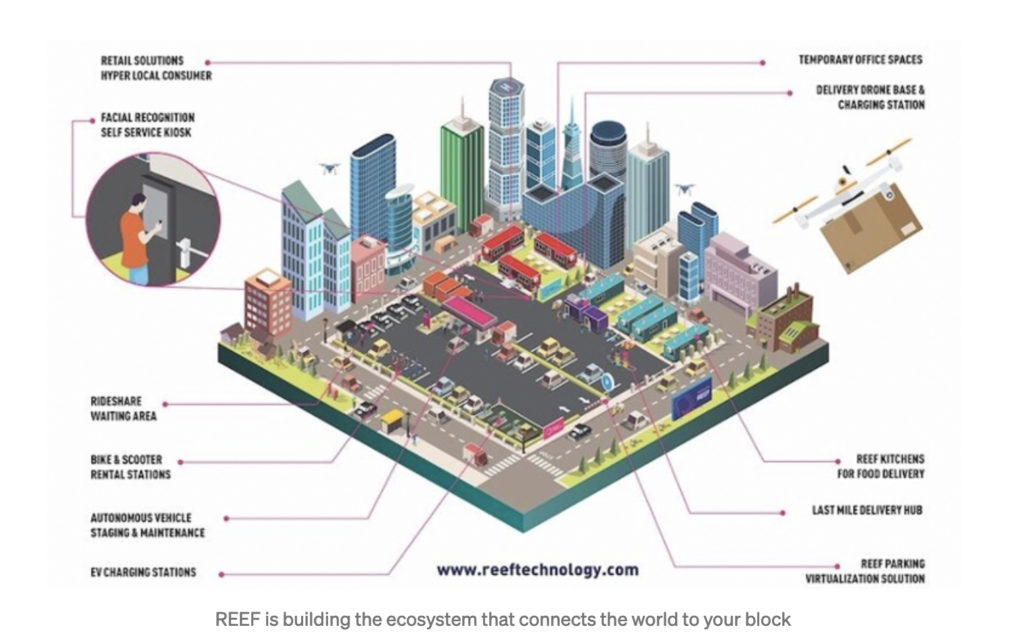 Today's cities don't have the last-mile and last-block infrastructure required to handle this increase. Even before the pandemic, New York City was seeing 1.5 million packages delivered every day, even though Manhattan traffic can only achieve an average speed of 8mph. With parking scarce, delivery companies in New York have started to simply factor in parking fines on their balance sheets as an inevitable cost.

(…)

REEF identified serious inefficiencies in a traditional parking sector, developed a solid business model and proved they could make it a success. But REEF's vision was more ambitious than effectively managing parking locations. REEF realized that having large, easily accessible, open spaces in the heart of urban areas was just what many service providers need to connect with local communities. These last-block hubs can pay a vital role in a city's ecosystem. REEF calls this proximity as a service.

One of the use cases was to transform food delivery by using REEF's infrastructure and transform it from a heavily subsidized peer-to-peer delivery model into a profitable hub-and-spoke model. With restaurants forced to close to diners during the pandemic, marrying dark kitchens with REEF's urban hubs was a perfect fit. In fact most of the consumer trends of the pandemic, like kerb-side pickup, mesh perfectly with REEF's model.

Urban hubs are also a boon for delivery companies. Improvements in logistics and services have seen a huge shift in customer expectations: consumers are used to ordering products and services online, and they expect delivery to be fast, even for non-essential goods that are non-perishable. They also want delivery to be eco-friendly, and not create disruption and noise in their neighbourhoods. And of course they don't want to pay much for it. It's a huge ask.
2 images de la proximité